Ever thought that defusing bombs were simple? Well, i'm here to tell you that it's way harder then that! Keep Talking And Nobody Explodes takes bomb-defusing to a whole new level! Find yourself trapped alone in a room with a ticking time bomb. Your friends have the manual to defuse it, but they can't see the bomb, so you're going to have to talk it out – fast!
Gameplay
One person, has the bomb defuse manual while the other person, is stuck in a room with the bomb! The bomb has a bunch of intricate puzzles on it and the Spectator (the person in the room), has to explain the puzzle to the Expert (the person with the manual). The Expert will then explain the solution to the Spectator and thus defusing a puzzle. This goes on until all the puzzles on the bomb are successfully defused. Also, you've got a few minutes to do this, occasional blackouts and an alarm clock that goes off once in a while! Yep… Good luck! You've got 3 strikes, if you do the puzzle incorrectly, you'll get a strike! The bomb will explode if the timer reaches 0, or if you get 3 strikes!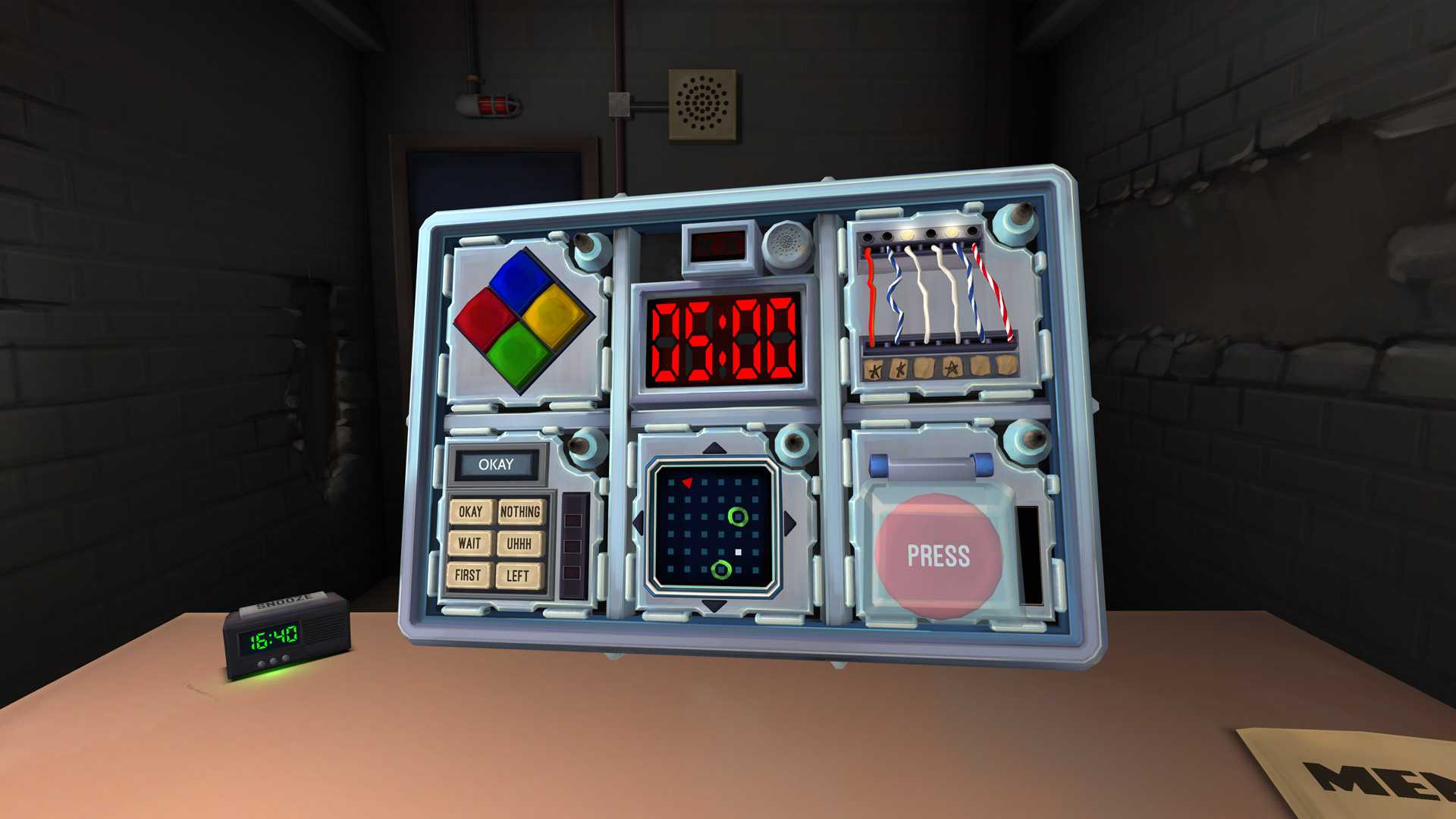 Some Key Features
Challenging puzzles that will test the limits of your communication skills… and friendships?
A different bomb every time! Procedurally generated puzzles keep the action fresh.
Local multiplayer party game – A great way to experience VR with all of your friends at the same time!
Only one copy of the game needed! If you can talk to the bomb defuser, you can be their expert! Try using your favorite voice chat service and playing remotely.
Mod support! Try out new modules, missions, and more from the community with Steam Workshop!
The bomb defusal manual is freely available at http://www.bombmanual.com and can be printed or viewed on a tablet or any other web-enabled device.
Start Bomb-Defusing today! We're not responsible for any deaths! Click here!
Nerdy Informations!
MINIMUM:
OS: Windows 7 or higher
Processor: 1.5 Ghz
Memory: 2 GB RAM
Graphics: 256MB DirectX 9 or higher
Storage: 1 GB available space
Additional Notes: A printed copy of the Bomb Defusal Manual or an additional web-enabled device to view the Bomb Defusal Manual is required. The Bomb Defusal Manual is freely available at www.bombmanual.com. HTC Vive or Oculus Rift/DK2 required for VR play. Gamepad or motion controllers required for VR play.
Disclaimer: Keep Talking and Nobody Explodes is the rightful product of Steel Crate Games. I am not, in any way, (except for writing this article), related to the product.