A collaboration between legendary game designer 'Richard Garfield' and 'Valve' has sparked a new trading-card game out of air! Face off against hundreds, thousands or even millions of people online as you pit 'Valve's' legendary 'DOTA 2' characters against one another!
'DOTA 2' as a Trading Card Game
---
What happens if you magically transform 'DOTA 2' into a trading card game, add insane new combat mechanics and collaborate with legendary game designer 'Richard Garfield?' You get an amazing, and original game made by 'Valve!' For the first time in what seemed like forever, 'Valve' has created a game that is neither a first person shooter, a massive online multiplayer arena, or anything else that's mainstream!
A collaboration between legendary card game designer 'Richard Garfield' and 'Valve,' Artifact is a digital card game that combines deeply-strategic, competitive gameplay with the rich setting of 'DOTA 2.' The result is an immersive and visually-stunning trading card game unlike any other.

–'Steam'
Strategy to the Max!
---
'DOTA 2's' very own heroes have come to life in this trading card game! Attack your opponents from three different lanes as you summon as many units as you can hold! Outsmart your opponents in 'Valve's' newest trading card game as you play with random strangers online, or possibly, your friends! Are you a lonely gamer who has little to no friends? That's alright! With 'Artifact's' matching system, you can fight as many people as you can possibly imagine! Simply select your elimination or non-elimination format and deck constraints; then, challenge your friends to a crucible of your own design.
An excellent card game, flawed by a terrible monetization scheme. The gameplay and the mechanics are really good, which adds a breathe of fresh air to the genre, and the overall experience of the game itself. But the shady microtransaction practices prevent me to recommend it.

-Random 'Steam' user
Pre-order 'Valve's' newest trading card game as soon as today! Click here!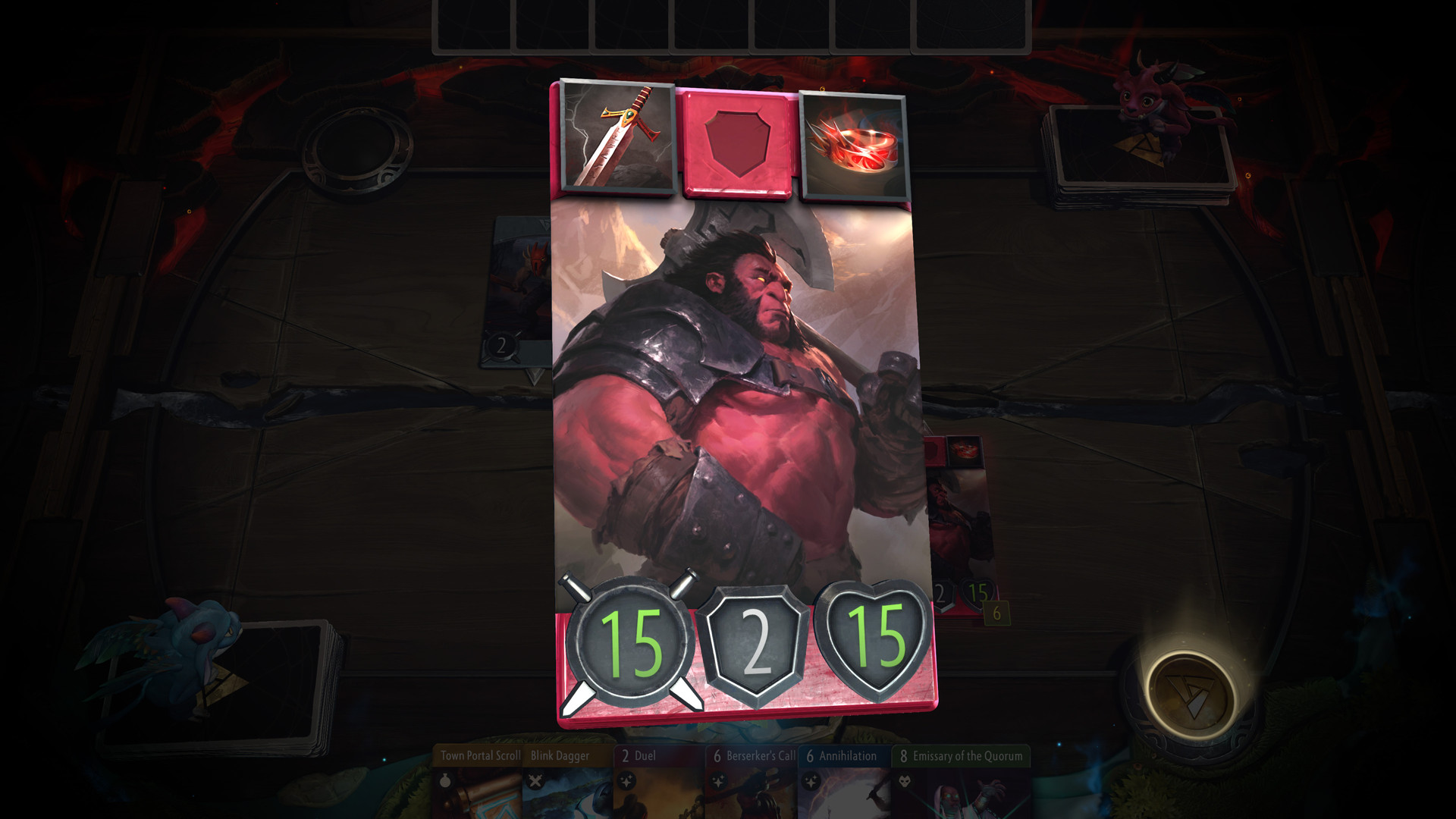 System Specs
MINIMUM:
Requires a 64-bit processor and operating system
OS: 64-bit Windows 7 / 8 / 10
Processor: Intel i5, 2.4 Ghz or better
Memory: 4 GB RAM
Graphics: Integrated HD Graphics 520 w/128 MB or better
Network: Broadband Internet connection
Storage: 7 GB available space
Sound Card: DirectX Compatible Sound Card
RECOMMENDED:
Requires a 64-bit processor and operating system
Disclaimer: © Valve Corporation, all rights reserved. Artifact and the Artifact logo, Dota 2, Steam and the Steam logo are trademarks and/or registered trademarks of Valve Corporation in the U.S. and other countries.