Ever so occasionally, an indie or AAA game development company comes up with a brilliant combination of genres. 'Coffee Stain Studios' have marked their existence in history with the creation of 'Sanctum 2.' And now, 'Hammer and Ravens' have stepped into the spotlight for a chance of success with their take on a 4X and Tower Defense fusion, 'Empires in Ruins.'
A Fusion of 4X and Tower Defense
---
Set in a grim and delusional world, 'Hammer and Ravens's' 'Empires in Ruins' combines the strategical aspect of a 4X game with the elements of a turn-based empire management in a hybrid that the gaming industry and gamers alike have never seen before! Conquer, build, defend, and lead Sergeant Hans Heimer in his epic quest to quell the rebellion and fight the so-called "system." And what game would be complete without dark humor around each and every corner?
The path to victory is paved with opponents with badly planned research trees.

–Gottfried Megler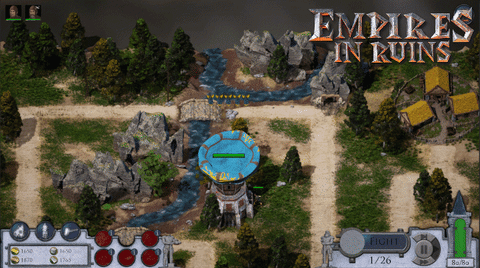 Gripping Combat
---
'Empires in Ruins' features two main systems in which combat is fought. The main map, and the battlefield. The main map, which manages the main aspect of empire building, is the driving point of the campaign story line. Through the main map, you can access single area maps where you will be able to manage your conquered areas and keep your government and diplomacy matters in order. The battlefield, on the other hand, is where most of the turn-based combat takes place. Battles are fought in real time and involves a great deal of decision making and resource management.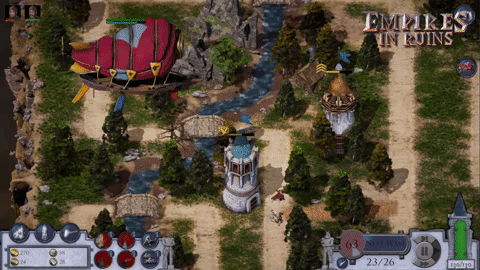 Build 1 of 17 unique towers, each with their own capabilities and specialties. Your defenses might be impenetrable, but beware! Amphibian, sea, land, and airborne enemies can open up new paths and attack unsuspecting workers or towers! And if you think that's bad enough, resource management plays a great deal in the rise or fall of your kingdom.
A World of Rebellions
---
Rebels have overrun the god forgotten lands of the Western Marches. Inflamed and occupied by barbarians and raiders, who better to send to quill the rebellion than a grumpy, alcoholic sergeant? Why him? And what is the neighboring kingdom, the Krovans, plotting to do with the Principality of Koth?
Dozens of Unlockables!
---
A tech tree can be one of the most exciting times in gaming. What units could you unlock next? What upgrades can you implement into your towers to make them deadlier, and a hell lot cooler! With over 70 unlockable units, towers, and abilities to unlock, what more could you add to the game to make it a lot more amazing.
Unfortunately, 'Empires in Ruins' is still in development and the development team in 'Hammer and Ravens' is working hard to perfect the game! But regardless, you can traverse to their 'Steam' page by clicking here or download their beta by clicking here!
System Specifications
---
MINIMUM:
OS: Windows 7 (32-bit)
Processor: Intel i3
Memory: 4 GB RAM
Storage: 5 GB available space
RECOMMENDED:
OS: Windows 10 (64-bit)
Processor: Intel i7
Memory: 8 GB RAM
Storage: 5 GB available space
Empires in Ruins and all its registered trademarks including logos, story-line and any other in game-related content are properties of Hammer and Ravens.